Bulk bag dischargers, or bulk bag unloaders, efficiently discharge powders or other dry bulk materials. A series of bags are employed to store or facilitate the transportation of otherwise challenging-to-store or transfer goods and commodities that would otherwise be difficult to handle. Bulk bag unloaders are particularly useful when the bags are considerably more challenging to unload manually, such as when materials have gotten tightly packed over time during storage. Read More…
Bulk Bag Unloaders
Bulk bag unloaders, also known as bulk bag dischargers, provide efficient powder handling or discharging of other dry bulk materials from bags that were used to provide storage or easy transport for otherwise difficult-to-handle materials.
Frame Configurations of Bulk Bag Unloaders
The two most popular frame designs for bulk bag unloaders are forklift-style and chain hoist-style. However, bulk bag unloaders can have many different frame designs.
Forklift-Style
These unloaders have slots that make it simple for a forklift to unload bulk bags. In addition, this bulk bag unloader is frequently shorter than a chain hoist-style bulk bag unloader since it does not need an upper framework to lift or position the bags.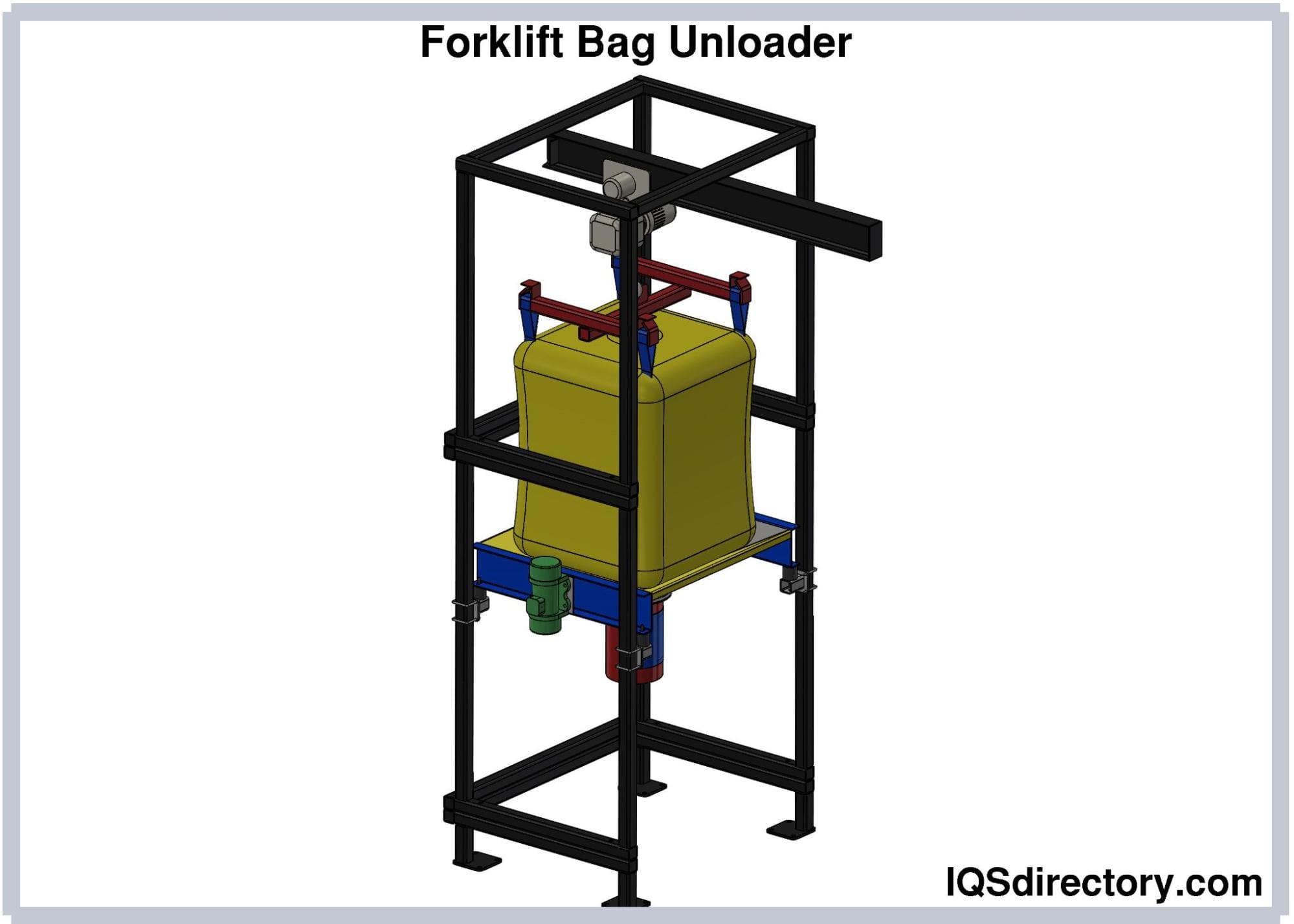 Chain Hoist-Style
These unloaders integrate a pneumatic or electrically-powered hoist that enables an operator to raise, position, and support the bag for unloading, enabling the unloading of the bags without using a forklift.
Crane-Style
Bulk bag unloaders in this design are a less common choice. Similar to how a forklift is used to load bulk bags, a crane-style bulk bag unloader is used to operate a crane to unload bags.
Bulk Bag Unloader Components
Bulk bag discharger systems are made to work hard in demanding situations. Unlike the bolt-together unloader designs prevalent in the market, every bulk bag discharge system, independent of its particular design or application, functions on a process-specific, fully-welded structural framework chassis. The conventional bulk bag unloader has a lifting frame with safety hooks, movable handling supports, and an aspiration point to remove displaced air, which enables the system to balance air flow and regulate dust.
A typical agitation system will have a delay between each paddle as the agitation paddles energize one at a time. The paddle activity continues until the bag is empty or a flow detection sensor detects no flow. When the material has become lumpy inside the bulk bag due to transportation compaction, a lump breaker is used to "resize" the product to a specific particle size. Frame construction using painted mild steel is common. There are additional frames made of stainless or galvanized steel.
Benefits of a Bulk Bag Unloader
Decreased Strain on Resources
Less labor is required to perform unloading duties since bulk bag unloaders collect and distribute material into processing lines. This is a big advantage for facilities with a limit on worker resources.
Reduced Dust and Product Loss
Bulk bag unloaders provide a dust-free discharge procedure for sealing in powder ingredients, reducing product loss during dispensing, and improving worker comfort and safety.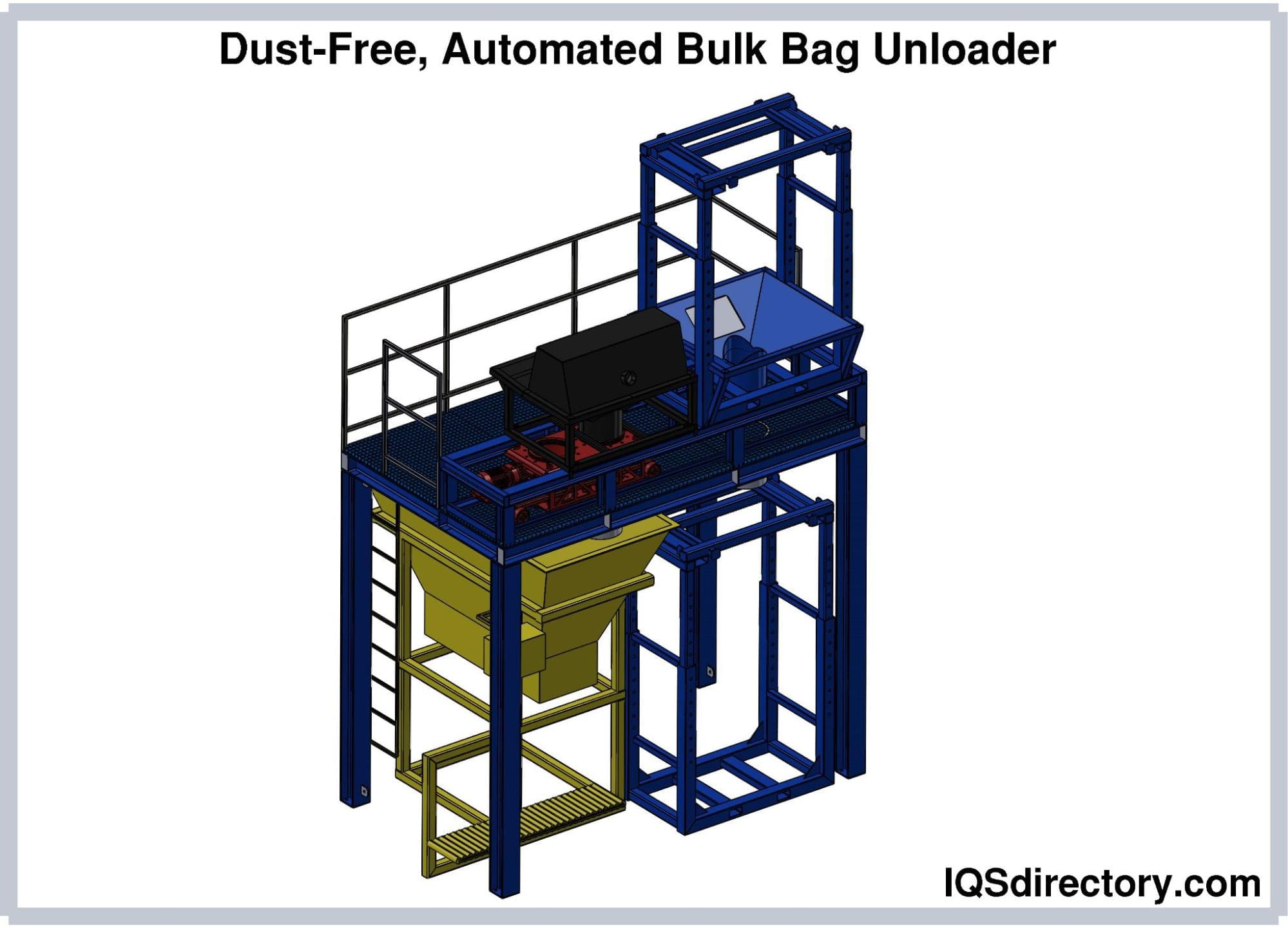 Improved Sanitation
Bulk bag unloaders are also intended to enhance hygiene. As a result, products only make contact with the inside of a bag liner. This provides greater cleanliness and product protection.
Boosted Productivity
Since bulk bag unloaders perform heavy lifting, operators may load, tie, untie, and remove bags without reaching into awkward or hard-to-reach spaces. Unloaders also feature user-friendly, simple to understand, control screens so an operator can be rapidly educated on how to use this machinery.
For applications where bulk bag heights are more uniform, or the material properties of the bagged product are more consistent, meanwhile, the fixed-height ram positioning feature provides full conditioning while reducing bag conditioning cycle times.
Improved Safety and Material Delivery
They improve material delivery uniformity downstream and eliminate the safety risks associated with manual bag conditioning processes.
Adaptable Placement Positions
The bulk bags' heights, and their bag conditioning cycles and sequences, frequently differ. A feature known as vertical-travel ram placement positions the rams on some bulk bag conditioners at a specific height where they are most needed. The vertical-travel ram design eliminates turntable and scissor-lift deck issues.
Conclusion
Large bags of bulk material can be quickly and efficiently unloaded with bulk bag unloaders. These machines are used in numerous industries, including mining, agriculture, and food production. These unloaders meet all national and international hygiene standards. This standard indicates that offloading large items is now more hygienic and secure. Many bulk bag unloader businesses have recently developed new designs for bag unloading, primarily for the processing and packaging sectors of the pharmaceutical food industries. Integrated automation maximizes uptime availability in the food and pharmaceutical processing to achieve this.
Choosing the Correct Bulk Bag Unloader Supplier
To make sure you have the most beneficial outcome when purchasing bulk bag unloaders from a bulk bag unloader supplier, it is important to compare at least 4 companies using our list of bulk bag unloader suppliers. Each bulk bag unloader supplier has a business profile page that highlights their areas of experience and capabilities and a contact form to directly communicate with the supplier for more information or request a quote. Review each bulk bag unloader company website using our patented website previewer to get an idea of what each company specializes in, and then use our simple RFQ form to contact multiple bulk bag unloader companies with the same message.
Bulk Bag Unloaders Informational Video