Vacuum conveyors are a subcategory of pneumatic conveying systems. In simpler terms, vacuum conveyors use a pressure difference to cause materials to move from one end to the other. Read More…
Vacuum Conveyors
A vacuum conveyor is a pneumatic conveyor system used to move objects in industrial and commercial settings.
The pressure difference is caused by a vacuum where material will be pulled to the negative pressure end of one or many inlets. This principle works best with dry, fine powder, or bulks since they can be caught easily by the airstream from the conveyor.
The advantage of using negative pressure instead of positive pressure systems is double. First, it avoids an excess of dust, In addition, it also causes any leaks to leak inwards thereby avoiding material losses. Vacuum conveyors are perfect for large applications, where bulk materials enter the conveyor from bags, silos, railcars, and other usually dusty containers. They are characteristically self-cleaning and have a smaller footprint than other conventional conveyor options. Their installation is easy and they are energy efficient.
Specifications and Considerations
This list contains the most simple and typical specifications required:
Flow Rate, Distance, and Bulk Density
The required distance, rate of product movement, and a product's density must be understood. Vacuum conveyors are essentially based on what they're conveying. Hence, these values will be important in determining the proper pipe length, diameter, number of outlets/inlets, and the type of vacuum conveyor to be used.
Conveyor Features and Protection
Where is the upstream process system located? Also, is the system conducted continuously or in batches? Finally, what is the particle size and what vents, filters, and fans will be needed to address this product type? These specifications won't only influence the conveyor design but address key considerations related to the large application at hand.
Control, Environment and Special Considerations
Vacuum conveyors, especially the dense-phase type, are good extras to automated and control- oriented systems. If this is required for an application, the right equipment must be included in the design. Also, the working environment must be examined including potential hazards like high alkalinity, humidity, cold/heat, or anything else which may compromise material integrity of a conveyor system.
Types of Vacuum Conveyors
There are some significant types of vacuum conveyors which should be understood prior to specifying a vacuum system.
Dilute Phase Vacuum Conveyors
The dilute phase vacuum conveyor uses a high velocity air stream at low pressure to fluidize the product continuously. Dilute vacuum conveyors are often applied for materials which tend to not pack under pressure and for longer distances.
The high-speed movement puts more force on the product, so fragile material is not usually carried in these systems. A dilute phase vacuum conveyor is especially convenient in hazardous applications. Since the vacuum reduces exposure to toxicity, they are important additions to chemical plants, food processors, agriculture, and other industries.
Dense Phase Vacuum Conveyors
Dense phase conveyors are operated using a controlled vacuum and a low speed, creating slow-moving, discrete packets of product through the system. The aim of making a slow, dense phase is to avoid excess stress that enables these conveyors to transport fragile materials while still utilizing a pneumatic system.
They also avoid excess buildup in the tubes since each product mound can be bookended with adequate space so that no two mounds make contact. This setup moves heavier materials as well, making them applicable in high volume applications. While slow compared to the dilute phase conveyor, the dense phase conveyor gently conveys products and is perfect for well-regulated and automated applications. They find use in heavy bulk transportation and abrasives, plastic manufacturing, and more fragile applications.
Vacuum Belt Conveyor
Though not technically a negative pressure-enclosed system, a vacuum belt conveyor will show up while searching into vacuum conveyor systems so it's important to know about them. These systems work similarly with belt conveyors. They have perforated holes connected to a vacuum that causes suction between any product on the belt and the belt itself.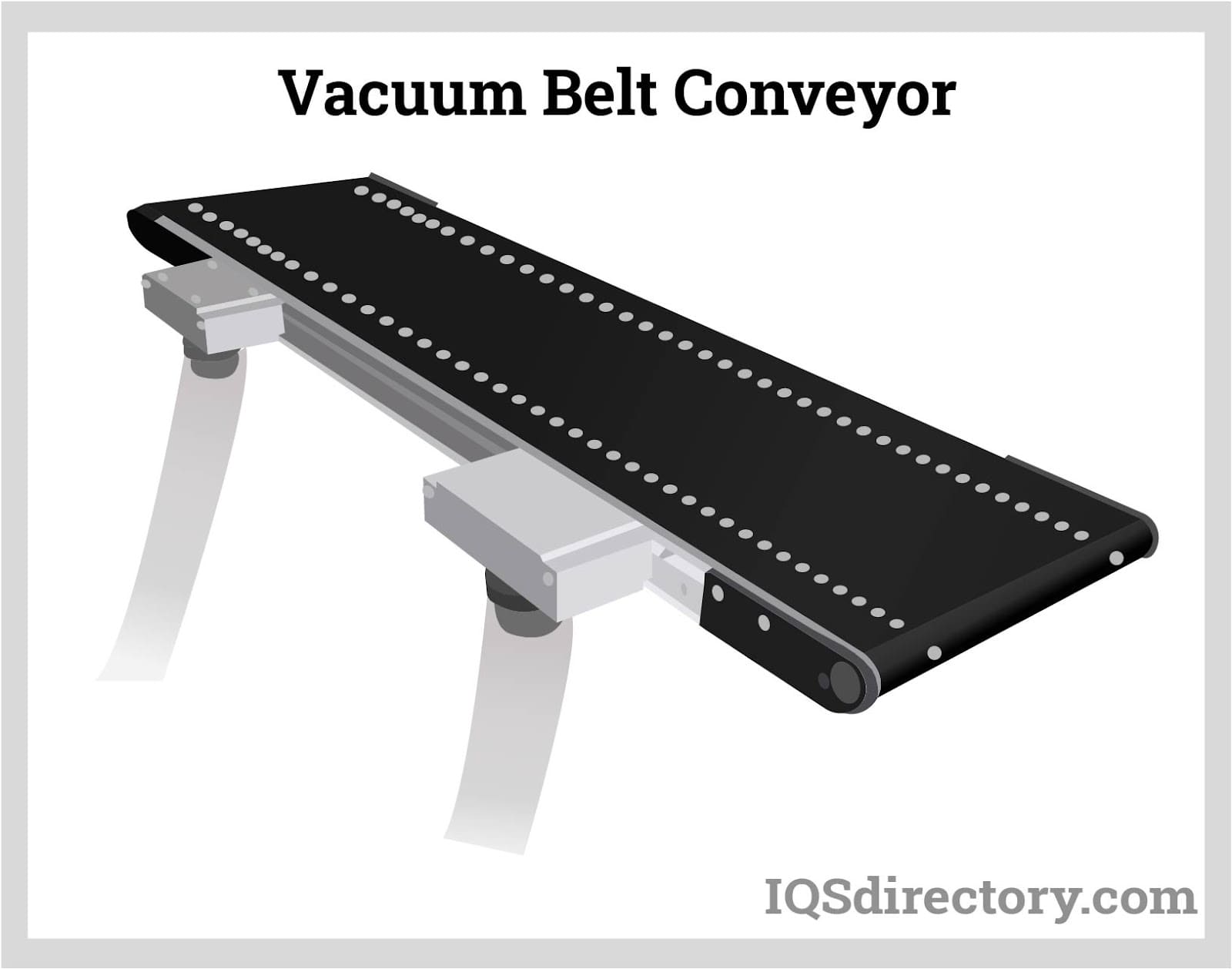 This makes the vacuum belt conveyor system more adaptable since it can now move throughout higher inclines because of the added gripping vacuum power. Vacuum belts are mainly useful when transporting light materials like cardboard boxes and may be found in numerous industries since they can easily replace conventional belt conveyors. Other common uses of a vacuum belt conveyor are in elevators for light or small products, assembly lines, or any applications which utilize a conventional belt conveyor.
Applications of Vacuum Conveyors
Vacuum conveyors are found in a number of industries, from pharmaceuticals and healthcare to metalworking and manufacturing. Within these and more industries, vacuum conveyors are beneficial for many particular applications, including:
Inspection
Precision part movement
Small part positioning and handling
Work holding
Part and package outfeed and infeed
Printing
Automated assembly
Manual assembly
Choosing the Right Vacuum Conveyors Supplier
To make sure you have the most productive outcome when purchasing vacuum conveyors from a vacuum conveyor supplier, it is important to compare at least 4 to 5 companies using our list of vacuum conveyor suppliers. Each vacuum conveyor supplier has a business profile page that highlights their areas of experience and capabilities and a contact form to directly communicate with the supplier for more information or request a quote. Review each vacuum conveyor company website using our proprietary website previewer to get an idea of what each company specializes in, and then use our simple RFQ form to contact multiple vacuum conveyor companies with the same message.
Vacuum Conveyors Informational Video